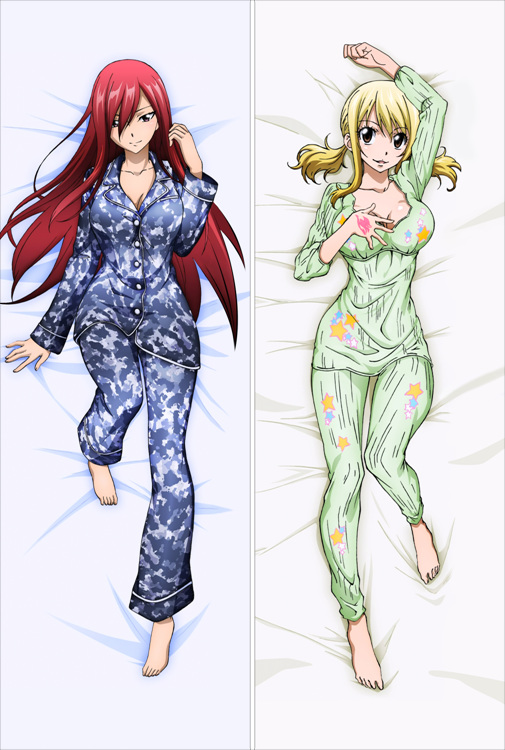 What is the story of the anime Fairy Tail?
What is the story of the anime Fairy Tail?

Fairy Tail (Japanese: フェアリーテイル Hepburn: Fearī Teiru) is a Japanese manga series written and illustrated by Hiro Mashima. It was serialized in Kodansha's Weekly Shōnen Magazine from August 2, 2006 to July 26, 2017, with the individual chapters collected and published into 63 tankōbon volumes. The story follows the adventures of Natsu Dragneel, a member of the popular wizard[2] guild Fairy Tail, as he searches the fictional world of Earth-land for the dragon Igneel.
The manga has been adapted into an anime series produced by A-1 Pictures, Dentsu Inc., Satelight, Bridge, and CloverWorks which began broadcasting in Japan on October 12, 2009. Additionally, A-1 Pictures has developed seven original video animations and two animated feature films. The series ended its initial run on March 30, 2013. A second series premiered on TV Tokyo on April 5, 2014, and ended on March 26, 2016. A third series of the anime series is scheduled to air on October 7, 2018.[3][4] The series has also inspired numerous spin-off manga, including a sequel storyboarded by Mashima, titled Fairy Tail 100 Years Quest, which launched on July 25, 2018.
Fairy Tail was originally licensed for an English language release in North America by Del Rey Manga, which began releasing the individual volumes on March 25, 2008 and ended its licensing with the 12th volume release in September 2010. In December 2010, Kodansha USA took over North American release of the series. The Southeast Asian network Animax Asia aired an English-language version of the anime for seven seasons from 2010 to 2015. The anime has been licensed by Funimation for an English-language release in North America. As of February 2017, Fairy Tail had 60 million copies in print.[5]
The story is about a budding mage, Lucy Heartfillia meeting a boy named Natsu Dragneel, who is searching for his lost , Igneel who is a dragon. He helps her join one of the most powerful guilds in the country named Fairy Tail. This anime is about her adventures in the guild.
This is a typical battle shounen anime. The characters are lovable and the fights are pretty good. However, the story becomes predictable and boring after a while.
Fairy Tail as a whole, the story is primarily about Lucy Heartfilia.She is a budding Celestial Wizard (yes… wizard, not witch) who is simply looking to join the guild of Fairy Tail to become strong and independent. The story of Lucy's life ties in closely with the events that we witness from the entire series, however the rest of the episodes not entirely focused on Lucy are designed to give character to the world and the people within it. It provides us with an understanding that there is a lot more to this world than meets the eye, and that not just Lucy is affected by it all.It plays to the message of friendship, leadership, and responsibility. Taking the first step to reach a goal most would think unreachable. Being confident in yourself and your friends, and realizing that no goal is truly too big so long as you trust in yourself and everyone who respects you.
Lucy's story is more designed to appeal to the viewer because she's ultimately the weaker of the entire guild but has the most potential. The same as anyone who watches Fairy Tail. She overcomes obstacles by association of everyone around her, but isn't invulnerable to reality… The same as anyone who watches Fairy Tail.
But in the end, it's got a very Naruto-esque build where the world is fluid around the main character's story. So many events seem random because they are almost random. But every experience is a good one to behold with a lesson to learn :)

The world of Earth-land is home to numerous guilds where skilled wizards[2] apply their magical abilities for paid job requests. Natsu Dragneel, a dragon slayer wizard from the Fairy Tail guild, explores the Kingdom of Fiore in search of his missing adoptive father, the dragon Igneel. During his journey, he befriends a young celestial wizard named Lucy Heartfilia and invites her to join Fairy Tail. Lucy forms a team with Natsu and his cat-like Exceed partner, Happy, which is joined by other guild members: Gray Fullbuster, an ice wizard; Erza Scarlet, a magical knight; and Wendy Marvell and Carla, another dragon slayer and Exceed duo. The team embark on numerous missions together, which include subduing criminals, illegal dark guilds, and ancient Etherious demons created by the immortal dark wizard Zeref.
After several adventures, Natsu and his companions encounter Zeref living in isolation on the guild's sacred ground of Sirius Island.[6] A battle over Zeref ensues between Fairy Tail and the dark guild Grimoire Heart, which attracts the attention of the evil black dragon Acnologia. The Fairy Tail wizards survive Acnologia's assault when the spirit of their guild's founder and Zeref's estranged lover, Mavis Vermillion, casts the defensive Fairy Sphere spell that places them into seven years of suspended animation. After later participating in the Grand Magic Games tournament, Fairy Tail wages war against Tartaros, a dark guild of Etherious that aim to unseal a book believed to contain E.N.D., Zeref's ultimate demon. Acnologia returns to annihilate both guilds, prompting Igneel – revealed to have sealed himself within Natsu – to emerge and battle Acnologia. However, Acnologia kills Igneel in front of a helpless Natsu, who departs on a training journey to avenge Igneel.
One year later, Natsu returns to discover that Fairy Tail's master, Makarov Dreyar, has been futilely trying to postpone an invasion by the Alvarez Empire, which Zeref governs. Zeref and his forces assault Fiore, intending to acquire Mavis' body preserved beneath Fairy Tail's guildhall, which houses a wellspring of infinite magic power called Fairy Heart. While battling Zeref, Natsu is informed of his own identity as both Zeref's younger brother and the true incarnation of E.N.D., whom Zeref resurrected as a demon with the intention of being killed by him. When Natsu fails to do so, Zeref extracts and absorbs Fairy Heart in a bid to rewrite the present timeline with one where he might prevent the atrocities he and Acnologia have caused. Natsu incapacitates Zeref to stop the drastic changes to history this would create, while Lucy edits the book of E.N.D. to make Natsu human. Mavis then lifts her and Zeref's shared curse of immortality by reciprocating his love, which kills them both.
Meanwhile, Fairy Tail and their allies detain Acnologia within a space-time rift discovered by Lucy's ancestor, Anna Heartfilia. However, Acnologia escapes while his disembodied spirit traps all of the present dragon slayers within the rift to maintain his godlike power. Lucy and the other wizards immobilize the dragon's body within Fairy Sphere, while Natsu accumulates the other dragon slayers' magic and destroys Acnologia's spirit, killing him and freeing the dragon slayers from captivity. In the following year, Lucy publishes a novel based on her experiences at the guild; at the award ceremony, two strangers resembling Mavis and Zeref meet and befriend each other. Afterwards, Natsu and his team depart on a century-old guild mission,[7] continuing their adventures together.
The Fairy Tail manga and anime series features an extensive cast of characters created by Hiro Mashima. The series takes place primarily in the Kingdom of Fiore, a country in the fictional universe Earth-land, where several of its residents perform various forms of magic. Those who practice magic as a profession, referred to as wizards (魔導士 madōshi),[vol. 2:translation notes] join guilds where they share information and do paid jobs for clients. The series' storyline follows a group of wizards from the rambunctious titular guild.
The main protagonists are Natsu Dragneel, a wizard with the powers of a dragonslayer who is searching for his adoptive dragon father, Igneel, and Lucy Heartfilia, a celestial wizard who joins the Fairy Tail guild. In the early part of the series, they form a team including: Happy, a flying cat and best friend of Natsu; Gray Fullbuster, an ice wizard; and Erza Scarlet, a knight who specializes in using various magic weapons and armors. Throughout the series, Lucy and Natsu interact with and befriend other wizards and guilds in Fiore. They also encounter various antagonists from illegal "dark" guilds, and Zeref, an ancient wizard who is the series' main antagonist.
When creating the series, Mashima was influenced by Akira Toriyama, J.R.R. Tolkien and Yudetamago and based the guild on a local bar. He also used people as references in designing other characters. The characters have been well-received overall.